Southern Strands, North Carolina Fiber Art
Blowing Rock Art and History Museum, Blowing Rock, NC
May 25 - October 27, 2019
Textiles and fibers have a strong place within craft heritage and history in North Carolina. The 19th century saw the industrial revolution bring textile mills to the heart of the state, which challenged handcrafted techniques. The layers of this story are deepened by an exploration of women's history, which is strongly rooted in fiber and textile practices. Addressing these themes, Southern Strands: North Carolina Fiber Art presents artwork by contemporary fiber and textile artists creating across the state of North Carolina, alongside historic discussions that highlight and encourage appreciation for the cultural history and heritage of these crafts.
Exhibiting artists include Edwina Bringle, Catharine Ellis, Jeana Klein, Carmen Grier, Leslie Pearson, Evee Erb, Erin Miller, Sydney Sogol, Joyce Watkins King, Marguerite Jay Gignoux, Mary Tuma, Jan-Ru Wan, Susan Brandeis, Billie Ruth Sudduth, Vicki Essig, Bryant Holsenbeck, Susan Sharpe, September Krueger, Bethanne Knudson, Precious Lovell, and Andrea Vail. These artists hail from all over the state of North Carolina, from the east coast to the mountainous west and the Piedmont in between.
Southern Strands presents works created using a wide variety of techniques, many of which seek to incorporate natural methods of textile production through natural dyes, as well as the reuse of locally gathered fiber materials. Techniques explored by exhibiting artists include quilting, basketry, weaving, felting, embroidery, crochet, paper making, book binding, screen printing, pattern making, and dyeing. Additionally, contemporary techniques explore fibers and textiles through sculpture, installation, and mixed media.
This presentation of diverse mediums is coupled with discussions of the functional and the visual. Historically, textiles have served a functional means, from clothing to storage vessels. As time has passed, there has been a bridging of the worlds of function, craft, and visual art. Southern Strands offers opportunities to expand on these discussions of form versus function, as well as commonalities and differences found within fiber and textile practices employed in art studios across the state today.
This project is made possible by a grant from the Blue Ridge National Heritage Area Partnership.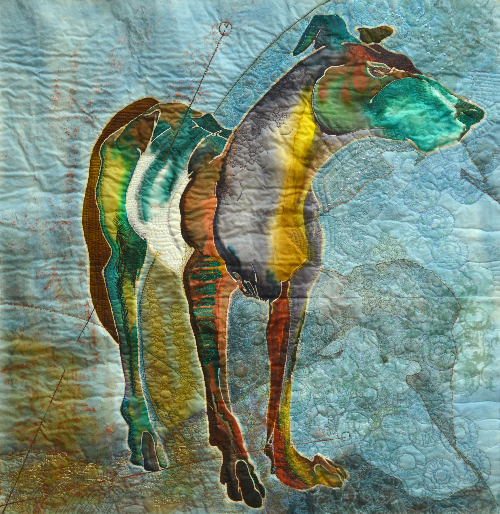 Image Credit: September Krueger. Her 77th Year. Hand painted silk, hand and machine embroidery. 40 x 40 inches. Courtesy of the artist.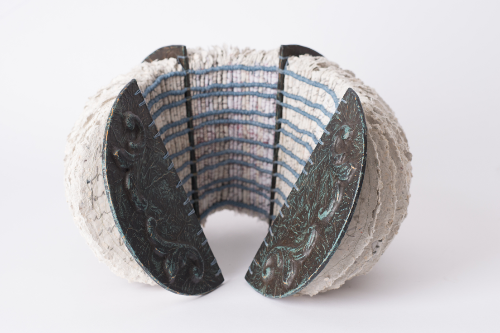 Image Credit: Leslie Pearson. Prayers For A Whole Heart, 2014. Handmade paper, silk, ink, freemotion stitching, painted wooden cover, coptic binding (waxed linen thread). 9 x 16 x 16 inches. Courtesy of the artist.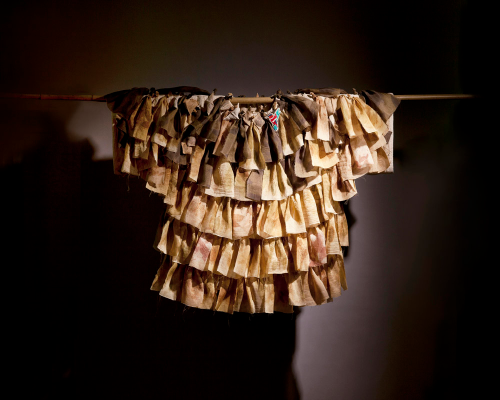 Image Credit: Precious Lovell. Wangari Maathai War Shirt, 2012. Mixed media; eco printed silk, hand embroidery, coffee dyeing, hand and machine sewing, pattern making, garment construction. 47.5 x 6 x 36 inches. Courtesy of the artist.