Of The Earth
Posted: Thursday, October 13, 2016 10:26 am | Updated: 11:10 am, Thu Oct 13, 2016.
Casey Stroud | Staff Writer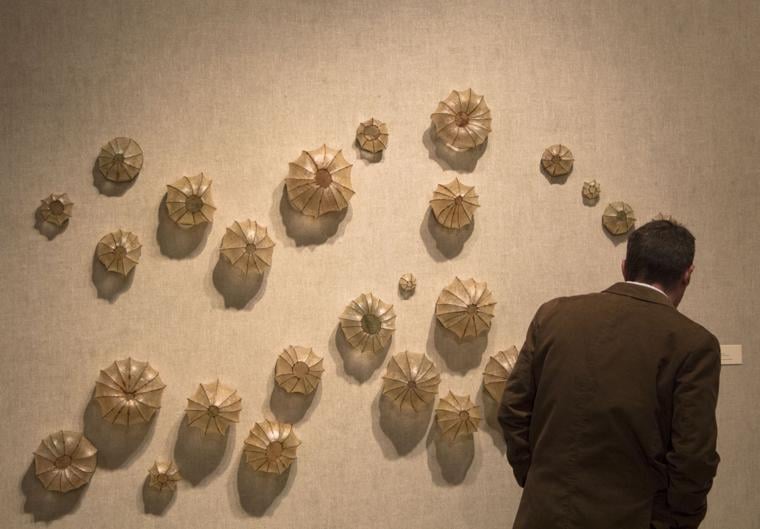 Students and faculty gathered in the Claypool-Young Art Gallery Wednesday evening to experience a variety of art by six different artists from across America.
The group exhibition, titled "Of the Earth", held its opening reception at 5 p.m. and featured works created from natural and recycled materials. The exhibition showcased artists from North Carolina, Michigan, California and Kentucky. Each artist presented a diverse amount of artwork ranging from woven fabrics and baskets to sculptures and paintings.
"It's different than what we've usually had, with different types of pieces that are a little craftier, but it's definitely a good show," said Gabe Lewis, a senior art major.
Leslie Pearson, an artist from North Carolina, presented two wall pieces and three experimental books that were created using materials such as tissue paper, beeswax, wire and hog intestine, also known as gut.
"One of the reasons I like to work with gut is because there's this repulsion and attraction at the same time," said Pearson. "It often looks like interesting shapes such as pods, nests or seashells, but when you walk up and read what it's made of, you're a little bit grossed out and attracted to it at the same time."
Carolyn Swift, an artist from Michigan, presented part of a series of pieces titled "Mid Life". Each piece included shells and used natural elements such as sky, grass, leaves and wind to symbolize different stages of life people go through.
"I have those because I feel directly a part of nature, which is why I chose things from the earth," said Swift. "The shells are all broken or eroded, like the kind you would find on a beach that have been through the water, which is part of the symbolism of 'Mid Life'."
The exhibition lasts from Oct. 12 to Nov. 22 and will be open Monday through Friday from 8 a.m. to 3:30 p.m.
SaveSave